About Walker's Tea
Founded in 1991 by Larry Walker and Jack Rowlett Jr., Walker's Tea has been providing customers with a consistent, great tasting, easy to make, long lasting and competitively priced Liquid Brewed Tea Concentrate for over 20 years. Although originally founded in Paola, Kansas by Mr. Walker and Mr. Rowlett Walker's Tea now resides in Manhattan, Kansas (The Little Apple) where Brad and Karen Streeter (Streeter Family Businesses) currently over-see the day to day operations of Walker's Tea including but not limited to bottling, packaging, ordering and the shipping/delivering of each and every bottle of Walker's Tea sold.
Being a true "family" business, Matt Streeter, Mr. & Mrs. Streeter's youngest son and family computer geek, created and maintains www.walkerstea.com, their website where anyone from anywhere in the world can go to order one of the best-tasting, highest quality liquid brewed tea concentrates on the market today. He also created and designed Walker's Tea business cards, labels, logo and just about anything else to do with a computer and Walker's Tea.
Walker's Tea can be found in grocery store chains regionally such as Hy-Vee, Price Chopper and Ray's Apple Market, as well as numerous smaller locally owned grocery stores in several states!
Focusing on expanding and growing the business since they acquired the business in 2009 Brad and Karen have increased the sales of Walker's Tea by 35% and Walker's Tea has now been shipped to all 50 States, Canada and the U.S. Virgin Islands!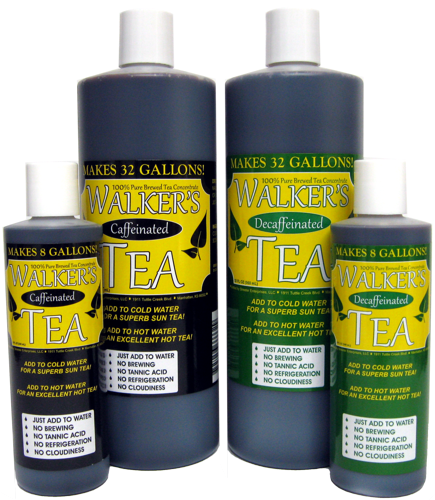 Buy a WEB SPECIAL and SAVE with FREE SHIPPING!