Customer Comments
Please email us your comments!

I love your product! It is exactly what I was looking for - a way to make a glass of iced tea at work without having to brew and cool it.

Other liquid tea products either have things I didn't want (artificial sweeteners/flavors), or are packaged to make large quantities.

Glad I found you -- best regards,
Linda R.
---
Glad to find your website. We've been buying Walker's tea concentrate for quite some time now, and we love it. We keep a bottle on our counter year-round, and it never goes sour or changes taste. A GREAT product.

Jim- Wichita, Kansas
---
I just wanted to tell you that after more than15 years I still think your tea is the best. I hope you will always be around. Thank you for a quality product that I can always count on.

Lucinda J.
---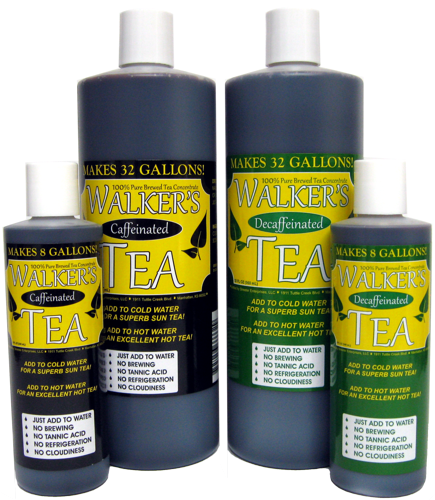 Buy a WEB SPECIAL and SAVE with FREE SHIPPING!